46.4% RESPONDENTS VOLUNTEER TO BE PIONEERS FOR THE COVID-19 VACCINE
KUALA LUMPUR, 10 DECEMBER 2020 – A total of 46.4% from 1,007 respondents who took part in a recent survey from UCSI Poll Research Centre agreed to be a part of the pioneer group to receive the COVID-19 vaccine.
Another 53.6% of respondents chose "No" when asked the same question.
These results are aligned with the respondents' level of confidence towards the vaccine that will be ready in Malaysia soon. Almost half of the respondents indicated that they were confident whereby 20.4% were "Extremely Confident" and another 26.8% chose "Confident".
Meanwhile, 15.6% of the respondents chose "Not Confident"; 9.8% chose "Extremely Not Confident" and a total of 27.4% chose "Neutral".
Most of the respondents also agreed that the economy will recover once the COVID-19 vaccine is available in Malaysia with 25.9% being "Extremely Confident" and 28% being "Confident". While 22.5% chose Neutral, only 15.4% were "Not Confident" and 8.2% were "Extremely Not Confident".
This shows that the public is optimistic that the availability of the vaccine will help to recover and stimulate the economy.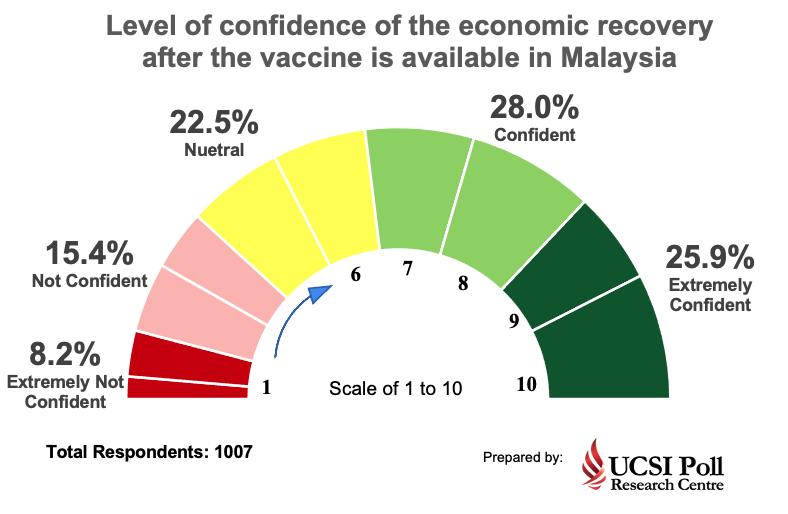 About UCSI Poll Research Centre The UCSI Poll Research Centre (UCSI-PRC) is a public opinion research company owned by the UCSI Group. Its main objective is to utilise original and scientific research methodologies to investigate and analyse public opinions and attitudes.