76% OF RESPONDENTS SUPPORT THE NEED FOR CNY SOP
KUALA LUMPUR, 9 February 2021 - The UCSI Poll Research Centre released a poll result on the Standard Operating Procedure (SOP) for the coming Chinese New Year celebration. The poll was conducted among 651 people in Malaysia and the margin of sampling error for this sample size was +/- 4%.
When asked whether the newly imposed SOP for Chinese New Year was necessary, 76% of the respondents chose 'Yes' and the remaining 24% chose 'No'.
The respondents were then asked on the reasons of their choice and the results were depicted below: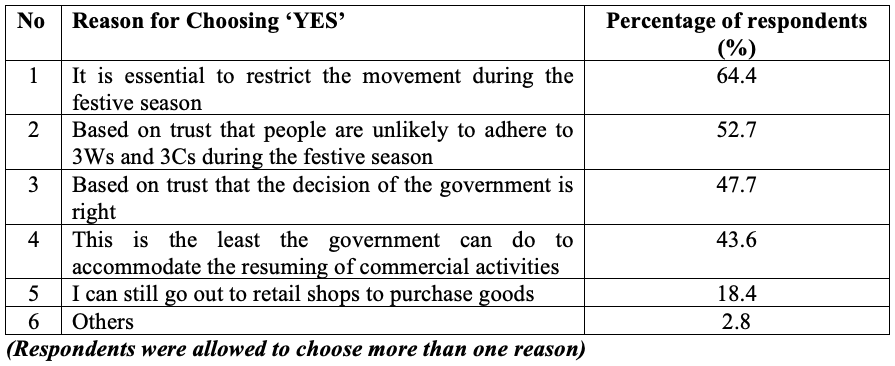 In a statement, the UCSI Poll Research Centre said that the majority of respondents agreed that there was a need to impose SOP for the coming Chinese New Year celebration. This is to ensure that there is a restriction on the movement of people as they are unlikely to adhere to the 3Ws and 3Cs during the festive season. The increase in COVID-19 cases may be the reason why people are having less confidence in adhering with the 3Ws and 3Cs, especially during the festive season.
Meanwhile, the public is still curious about the effectiveness of the movement restrictions when economic activities are allowed coupled with the inconsistency in SOP announcements. Policymakers should consider establishing an SOP that is consistent and less confusing.
About UCSI Poll Research Centre The UCSI Poll Research Centre (UCSI-PRC) is a public opinion research company owned by the UCSI Group. Its main objective is to utilise original and scientific research methodologies to investigate and analyse public opinions and attitudes.